This is your receipt and is not a ticket for travel by danilo machado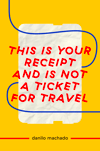 This debut collection by poet and curator danilo machado spans almost ten years of poems written on and about transit. Its title comes from the back of MTA receipts, where this clarification is written in bold red letters. Through observations on subways, trains, buses, and sidewalks, the poems consider the bodies and language present and absent in between.
***
advanced praise:
machado carves out enough space in a daily commute for the kind of desire that's only possible in liminal spaces, suspended in time, vibrating. . . That space between home and destination, destination and home. Wherever you go, take me with you.
—Caelan Ernest, author of night mode
Framing the train as an "unsettled machine," the poet brilliantly invites us to become witnesses to the stillness, life, un/safety, and protest of public transit. Like June Jordan, machado's sensibilities have left me asking: what can these machines teach us about the world, kinship, and poetics?
—Alan Pelaez Lopez, author of Intergalactic Travels: poems from a fugitive alien
The book follows its conceit to thrilling, unexpected places. machado recognizes public transport as a site of profound intimacy, where reverie opens up to become meditations on surveillance and inequities in finely observed evocations . . . machado's debut collection dazzles.
—Derrick Austin, author of Tenderness
What does public transportation mean to the "lanes bending like bodies" and what is the implication of increasingly privatized public commons? machado inquires about the exclusion of the public to freely move in a city infrastructure, elucidating the increasing material demands of travelers, who are reminded, after all, they are not able to travel without "exact change."
—Jasmine Gibson, author of Don't Let Them See Me Like This
** *
Cover Design: Rodrigo Moreira